Cleaning windows without leaving streaks is a dream of many stay-at-home parent and cleaning fanatics. Clean windows let more light into your house and determine the general feeling of cleanliness in the apartment. 
However, figuring out the right way to clean windows while avoiding unwanted scratches or streaks can be difficult.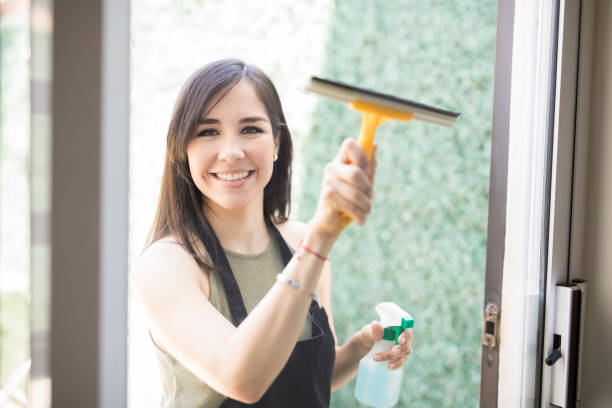 Below are some tips on how to clean your windows like a pro without paying the expense of a professional.
Window cleaning tips: the be-all and end-all of window cleaning without streaks
Alcohol and ammonia-containing glass cleaners should not be used. It may seem that such products clean more intensively, but in reality, they often leave streaks and in the worst case even a thin film that

attracts even more moisture and dust.

 

For particularly difficult areas, you can apply a solvent, such as rubbing alcohol, to a

clean

cloth and rub directly onto the area. Then wipe dry and continue cleaning your window as usual.

When cleaning the glass, never use razor blades or sharp objects to scrape off stubborn dirt. This can cause

permanent scratches

and make your windows even more vulnerable to damage in the future.

Use

a soft, lint-free cloth to rub off the cleaning solution.

A microfiber cloth is ideal, but a soft, clean paper towel can also be used. 

If you still have streaks after cleaning your window, you can

rinse with clear water

to remove the cleaning solution residue.
Underestimated all-rounders: cleaning windows with coke and toothpaste
Cola is an underestimated all-rounder in the household. Like white vinegar, it has a pH of around 2.5. It also contains powerful acids like citric acid, making it a powerful cleaning agent. 
You shouldn't be cleaning everything in your house with coke, but there are some tasks, like window cleaning, that can be easily done with a can of this fizzy drink. 
Since cola is not antibacterial , you should first use a real window cleaner and then clean with cola to remove stains and streaks.
Toothpaste is also a great home remedy. It not only cleans teeth but also serves to remove hard water stains on window glass . Apply a small amount to the affected area with a damp, soft cloth, then wipe with a damp sponge to remove any toothpaste residue.
Incidentally, toothpaste can also be used to remove slight scratches on the window glass . Like a type of abrasive paste, it levels the glass around the scratch to the same level as the scratch itself, thus hiding the scratches.
Clean windows with rinse aid for extra shine
Rinse aid ensures that the dishes dry faster and get a nice shine during the last wash cycle in the dishwasher. The surfactants that reduce the surface tension between glass and water are responsible for this. They ensure that the water rolls off and thus no stains can form.
And that's exactly why rinse aid is also a wonderful cleaning agent for cleaning windows. Because it prevents stripes and streaks from appearing. Use 1 tablespoon of rinse aid in 2 liters of water. 
The shine effect lasts longer and because water and dirt do not adhere as well to the glass, you also have to clean the windows less often. You can add 2 tablespoons of washing- up liquid at the end for an extra shine.
Cleaning the window pulled: cleaning like a real professional
A window squeegee is always used after wet cleaning of the pane. It successfully removes the dirty water and is easy to handle. Most people work in regular, top-down cycles. 
Professional window cleaners usually pull the dirty water off to the side and then downwards. If you want to do this too, it is best to hold a towel on the window frame so that the drained water does not drip onto the windowsill or soil the frame.
Gradually wipe the rubber lip of the window squeegee dry again with a clean cloth. A squeegee that is too wet does not work optimally.
Window cleaning device: Automatic helpers make work easier
Electric and automatic window cleaners are practical helpers that you absolutely have to try out.
An

electric window cleaner with a battery

is cheap and gets the job done quickly and reliably. It consists of a suction nozzle with a container for dirty water and

dries and vacuums the pane at the same time.

The result is window cleaning without streaks.

A window cleaning robot has the advantage

that

it works

100% autonomously and automatically

. After calculating the cleaning route via sensors, it starts to move. 

The hot steam from a

steam cleaner

removes bacteria and optimally dissolves dirt. Compared to traditional window cleaning, you can do

without the chemicals

found in cleaning products. 
If you have a lot of windows in the apartment or you simply lack the courage or the time, you can of course always enlist the help of a professional cleaning company, such as the SCS Group Integrated Services cleaning company!